'Sabuj Sangha' initiated a unique Health Care Project for Urban Poor- 'Niramoy' in the vulnerable slum pockets of Kolkata and Bidhannagar Municipal Corporations. The project is not only intended to serve the slum based urban poor with Health Services but also to raise the level of awareness on aspects pertinent to Health & Hygiene and making a part of their daily lives. The project is supported by the Wipro Cares.
The various facets of 'Niramoy includes establishing Health clinics in the slums under Kolkata & Bidhannagar Municipal Corporations, Provide health care to senior citizens, youth and others, Raise and ensure level of awareness in Maternal Health, Increase institutional delivery & ensure child immunization, ensure 100% birth registration, reduction of water & fly borne diseases and many others.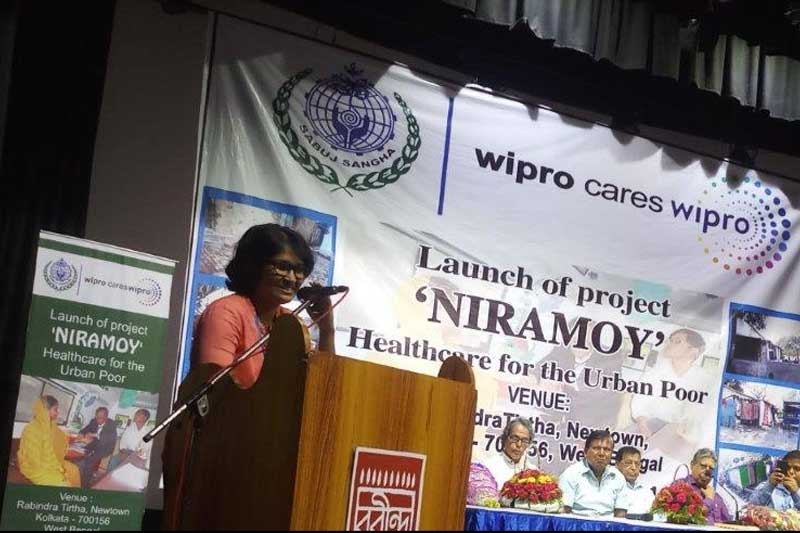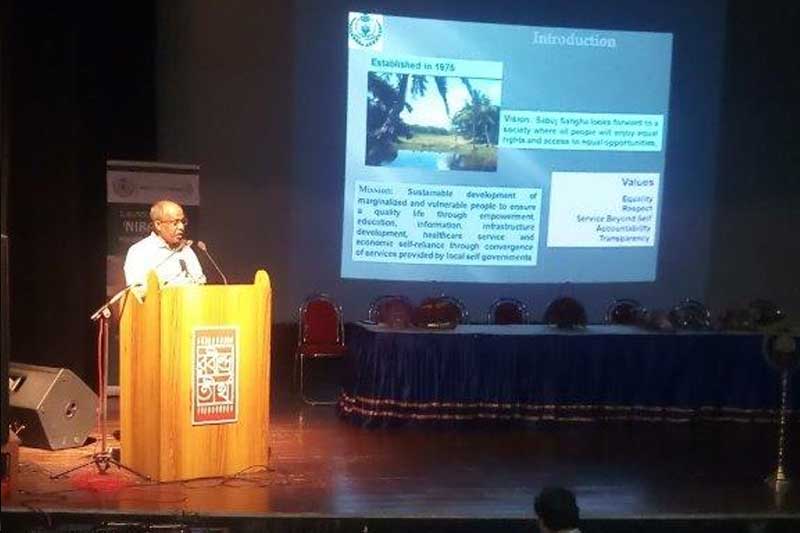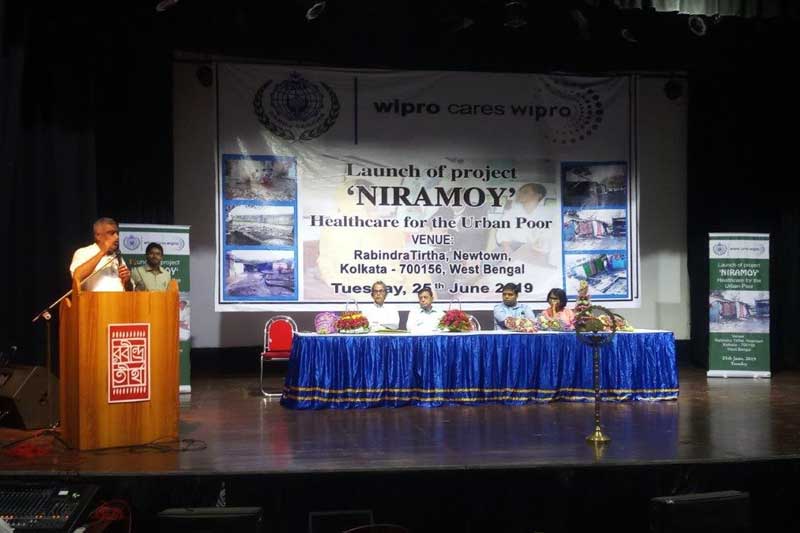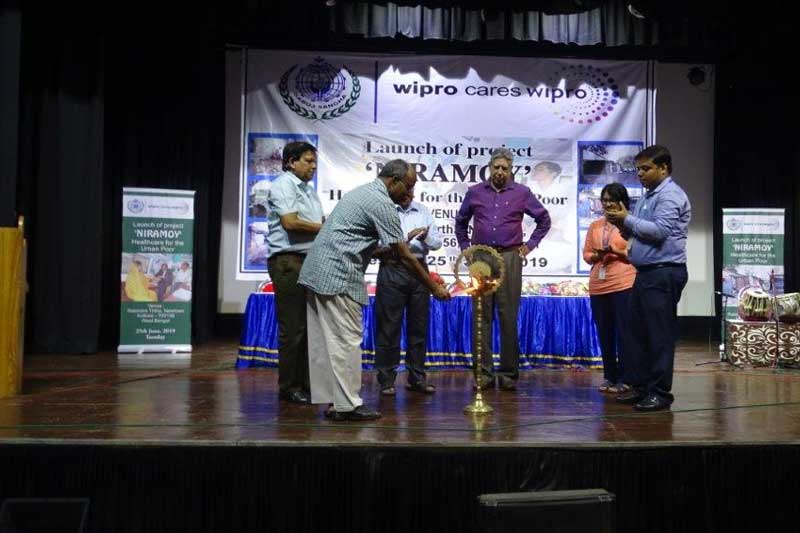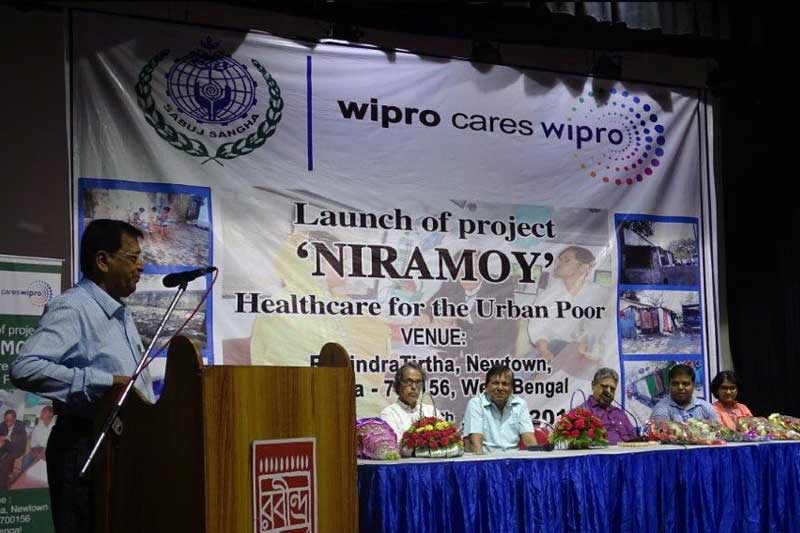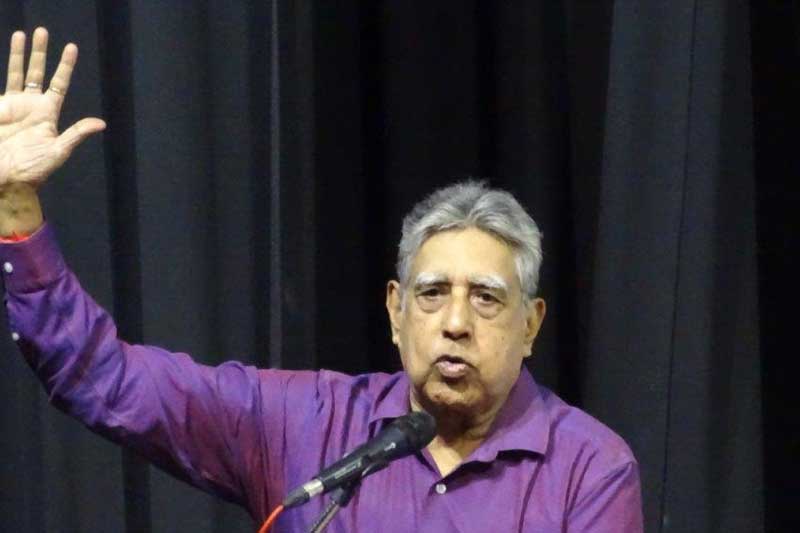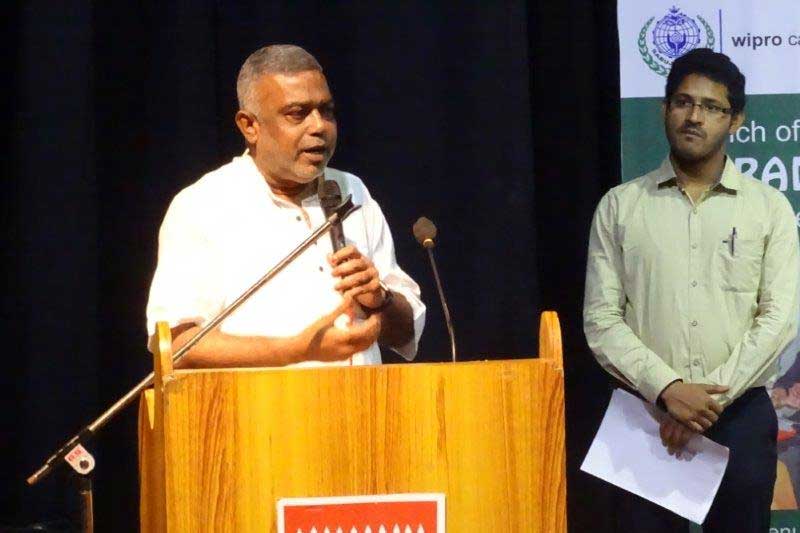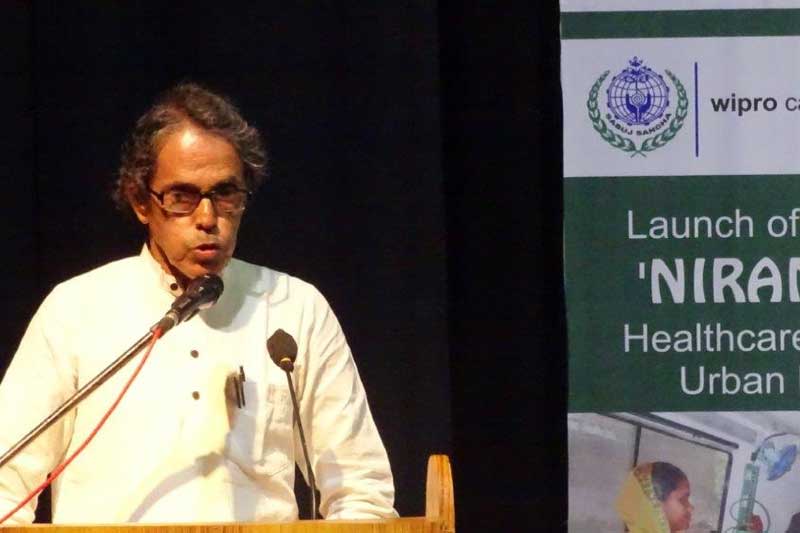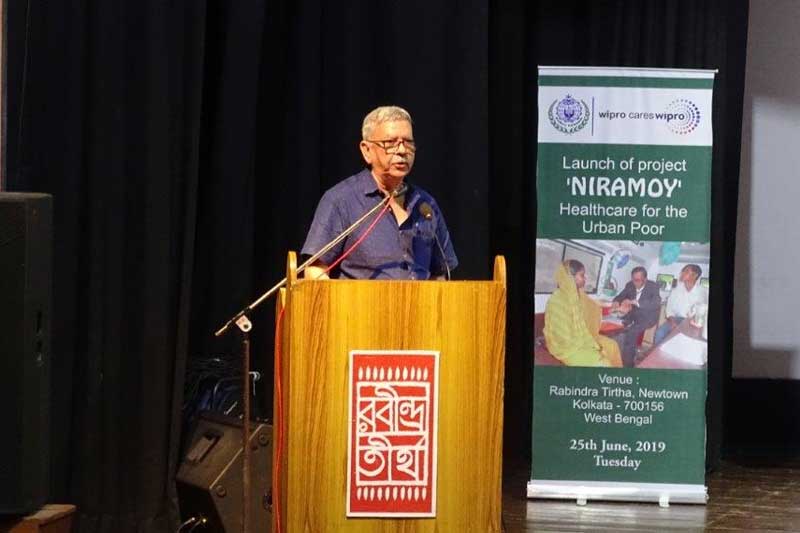 Initially the project will be started at the vulnerable slum pockets of Wards No. 79 & 80 of Kolkata Municipal Corporation and Ward No. 28 of Bidhannagar Municipal Corporation.
The uniqueness of 'Niramoy' Health Care project lies in having a strong sustainability plan of handing over the responsibilities of running the Health Clinics and its allied activities to the Community by building ownerships through formation of Core Groups namely Ward Health Committee. The core committee will thus remain responsible for raisi Launch Event 'Niramoy'
The inauguration of the project 'Niramoy' is held on 25th June, 2019 at 'Rabindra Tirtha' auditorium in New Town, Kolkata. Dignitaries from various organisations, distinguished eminent personalities from different walks of life and representatives of communities of various slum pockets of Bidhannagar and Kolkata Municipal Corporation participated in the programme.
The programme started by felicitating the Guests and Dignitaries. It is then followed with lighting the Inaugural Lamp by the eminent dignitaries and renditions of Rabindra Sangeet by Dr. Kingshuk Roy- Director of Sur-o Sadhana.
Mr. Ansuman Das, Secretary and Director of Sabuj Sangha elaborated on various facets of the project through a PowerPoint Presentation to all present. In his address he stressed upon raising the level of awareness in Hygiene Behaviour and building Stakeholdership among the community. He expressed his strong will of having attaining the objective of the programme. He hoped that this Programme with all its uniqueness could be replicated to other vulnerable pockets of the country.
Among other dignitaries present Mr. Sinharoy, Retired Central Ground Water Board (CGWB) Official and Governing Body Member of Sabuj Sangha stated that only a Handful Civil Society Organizations work dedicatedly for the betterment of deprived section of the community and in this regard Sabuj Sangha has a strong and active presence. He expressed his good wishes for successful implementation of Project 'Niramoy'.
Ms. Parvathy Mohandas, Programme officer of Wipro Cares grace the occasion as the Chief Guest. She mentioned that Wipro Cares approaches its social responsibility through direct engagement of communities by creating stakeholdership among them. She expressed his deep gratitude to Sabuj Sangha for taking the responsibilities of materialising Wipro Cares vision through the project.
Among other dignitaries Sri Pranay Kr. Roy, MIC (Health), Bidhannagar Municipal Corporation and Sri Debasish Kumar, MMIC, Kolkata Municipal Corporation graced the occasion as Guests of Honour. Both of them stressed upon the overcrowding condition of Govt. Health initiatives and welcomed the propositions of project 'Niramoy'. They also univocally called upon the low level of awareness in aspects of Health & Hygiene among the community at large. They appreciated the efforts of building stakeholdership among the community through the initiative.
Mr. Shyamaprasad Sinharoy, Board Member of Sabuj Sangha stated that hardly small number of civil society organization has worked about Livelihood opportunities in slum areas. He mentioned that there is lack of an adequate measure in those items. With the collaboration of Wipro Care Sabuj Sangha could change the situation of Slum dwellers. The people who spent their lives under open sky where mortality rate is extremely high there our team may provide the adequate service. He has also given gratitude to Wipro Care for being a part of this Project. He also believes in that "Niramoy" could be a model to the different cities.
Another eminent personality Mr. Gouranga Behari Roy – a Retired Govt. Administrator in his address recalls his long experience working for Health Improvement of the communities of West Bengal. In his address he mentioned of Sabuj Sangha's active participation and contribution in bettering the Health Scenario in the deep Sunderbans region of South 24 Parganas. He appreciated the initiatives under project 'Niramoy' and expressed his good wishes.
The inaugural programme concluded with the valedictory notes by Mr. Saradindu Banerjee, Vice President of Sabuj Sangha. ng funds from community and build a Corpus Fund to carry on the activities within the programme.