7-year-old Surota hails from an underprivileged, financially backward family. She lives in one of the most remote forested villages in Kumargram block, Alipurduar district, West Bengal. Calm and obedient by nature, Surota always wanted to go to school like her other friends. Her parents also tried so. Yet she couldn't get the opportunity to get admitted to any school for not having a birth certificate or similar documents that prove her citizenship there.
It is also found that, without any valid proof of her birth, the Gram Panchayat also declined to provide them with a birth certificate, which could be the gateway for the child to live a normal childhood. Surota is no exception; there are many such children who are facing this issue. Majority of them are born at home with high risks under the supervision of untrained nannies or unregistered quacks.
With sheer gloom, Surota's parents (father Mr. Nepang Rava and mother Mrs Lavari Rava) expressed their anguish and worry. In their words, "We never got any opportunity to study. Hence, we never got any good job and struggle every day to sustain better. We don't want the same for Surota". Thus, with no aspiration for a better life, Surota used to wander around in the neighbourhood.
In this situation, Sabuj Sangha intervened and talked with the family. We then supported the family so that Surota's study at school could be ensured. Thus, carrying the Polio Card of Surota, our staff visited the Panchayat Office. After a long conversation, the Panchayat authority and block authority finally got convinced, and the online application for the birth certificate of Surota could be made.
Finally, Surota has now received a birth certificate from the Gran Panchayat.
Surota and her parents' dream came true: she got admitted to Marakhata Pre-primary School, located in forested Uttar Nararthali village and close to her residence. She is currently in second grade.
Also, Surota is a student of Sabuj Sangha's non-formal education centre, Nabadiganta, in Uttar Nararthali village. She is a punctual, regular, and determined student who has promised to come over all odds and finish her study. She aspires to become a teacher by profession and will help many other children learn like her when she grows up.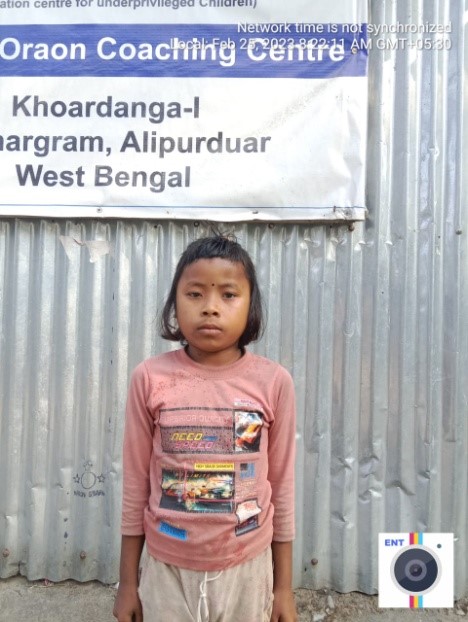 ---