Name: Riktabati Mondal
Age: 70 years
Husband's Name: Late Dijen Mondal
Riktabati Mondal is a 70-year-old lone widow from Paschim Sripatinagar village in Patharpratima block of Sunderbans, South 24 Parganas, the last inhabited island of India before the sea Bay of Bengal. Her husband passed away 9 years ago, leaving her completely alone in this world. Yet, Riktabati Devi has 3 sons and 5 daughters, all married and settled in different parts of the village. Despite many promises to take care of their mother no one kept except that of her younger daughter. Yet her younger daughter too is extremely poor and earn hardly around Rs. 3000-4000 per month. With this little earnings she can afford some food for her mother only. Thus abandoned completely by her family Riktabati is forced to live a life of misery alone.
In such situation, since last 5 to 6 years, Riktabati Devi was suffering from blurred vision which worsened with time. All her regular activities including cooking and reading, became challenging.
Riktabati Devi visited a few doctors who refused to treat her showing old age condition. Some also suggested her not to go for surgery stating that the operation may result to losing her vision completely.
In January 2023, Riktabati visited an eye camp organized by Sabuj Sangha at Paschim Sripatinagar village of Patharpratima block. After examining her the Doctor found that cataract is formed in her both eyes and require immediate surgery. In this situation, Sabuj Sangha came forward to assist her with the medical expenses and also arranged for her surgery. Within a few weeks, Riktabati Devi recovered her vision and could see clearly.
Riktabati now can see clearly and exuberant about her regained eyesight. In deep regards she says that it is Sabuj Sangha who helped her life with light again.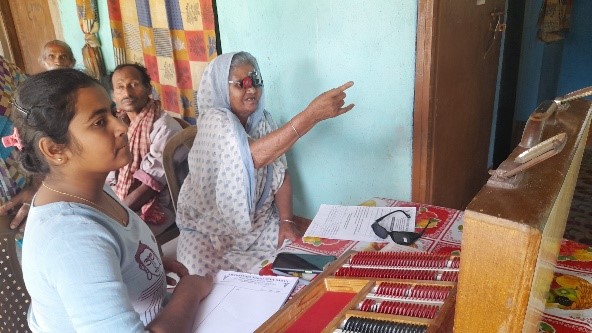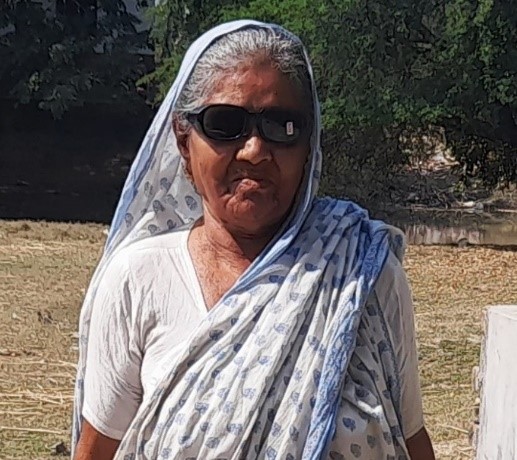 ---