We are very happy to inform all our well-wishers, friends, and supporters that in the present critical situation with the fast spreading Covid-19 we have received spontaneous supports and funds as soon as we initiated Response Programme for the extremely vulnerable people, deeply affected by the nationwide sudden knockdown and closure of earning avenues, both in urban and rural areas.
We have received the supports from a numbers of philanthropist individuals, Corporates, National & International Organisations etc. like – Mr. Arun Deb, Wipro Foundation, The Hans Foundation, My Choice Foundation, Global Fund for Children, Oil & Natural Gas Corporation Limited (ONGC) and many others.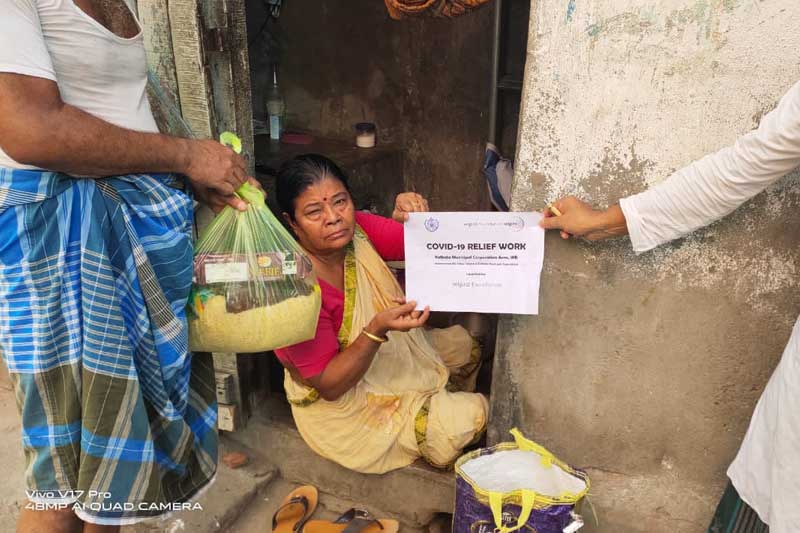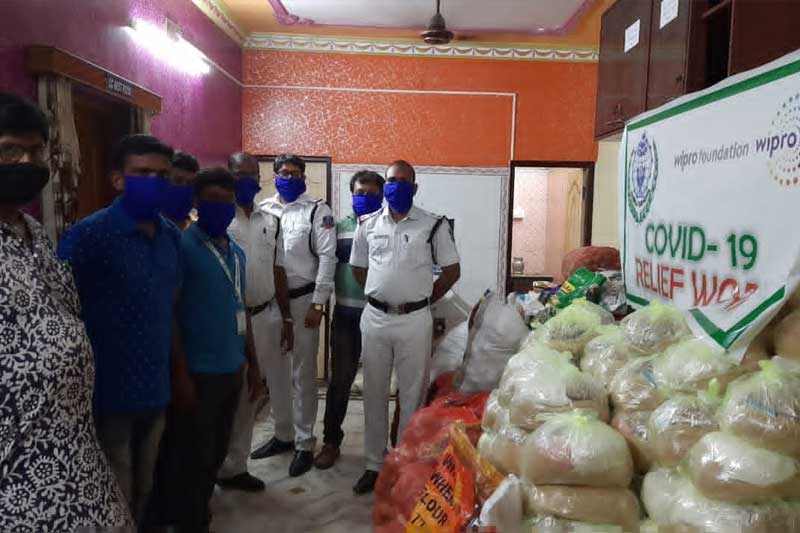 We are deeply thankful to all Government supports that we have received in our distribution activities. The activities remained a perfect testimony of GO and NGO collaboration. Thus we are deeply indebted to all the PRIs, Block administrations, ULBs and Police Administrations.
We are grateful to Mr. VivekSahay, ADG, Traffic, Kolkata Police, Mr. R. N. Banerjee, Jt. Police Commissioner, Bidhannagar police Commissionerate; Mr. SambhuJha, MTO, Bidhannagar Police Commissionerate, Mr. Jayanta Chakraborty Inspector, Kolkata Police, Mr. SukantaSaha, SDO, Diamond Harbour, South 24 Parganas; Mr. SantanuBapuli, Karmadhyaksha, Banabhumi, ZillaParishad South 24 Parganas and many others from Government of West Bengal.
Till date (4th May, 2020) we have reached to more than 10000 vulnerable families (around 50,000- 60,000 people) altogether in rural areas of Sunderbans and urban areas in Kolkata and Bidhannagar cities. Thus we could start providing essential commodities like Dry Food Materials (e.g. Rice, Pulses, Potatoes, Salt, Mustard Oil etc.) and Contamination Preventive Materials (e.g. Mask, Soap, Detergents etc.) to the most deeply affected people who have lost their earning resources by sudden lockdown.
We are also deeply moved, by reaching out to the children of sex workers in various areas of Kolkata. As sex workers are already prey to social maladies and now under lock down situation along with closure of earnings they are running short of fuel materials like Gas, Kerosene also. Hence, we reached out to 150 such children and could to give them dry food materials (e.g. Sattu, Chira Milk Powder etc.).
Yet there are need to reach out to many more such vulnerable people across the State in both rural and urban areas of South 24 Parganas, North 24 Parganas, Kolkata, East Midnapore or places like Himalayan villages in Alipurduar districts etc.
There are people of Elderly Age (60 years or more), Lone widows, Person with disabilities. There are people ailing by chronic diseases like Hypertensions, Blood Sugar etc. These people need liquid money for medicines and purchasing many other essentialities at their priority of needs.
Many of these people have Bank Accounts. Keeping the high requirements minimum liquid money needed for these vulnerable we are thinking to transfer a minimum amount of INR 1000.00 to each of such vulnerable families.This process will help avoiding any physical presence or contact and also a credible way to transfer cash. Thus the beneficiaries would be at their freedom and choice to purchase their priority need items.
Sabuj Sangha is in the process of creating links for Donations in the dashboard of our websitevery soon. Each vulnerable family can be supported with a minimum of INR 1000.00. But till the link is created if anybody wishes to contribute he/she can transfer directly to the Organizations' account as given below:
For Indian donors:
Name of the organization           : SABUJ SANGHA
NFC Bank Account number         : 32111012949
IFSC CODE                                      : SCBL0036087
Swift Code                                      : SCBLINBBXXX
Name in the NFC bank account  : SABUJ SANGHA 
(NANDAKUMARPUR)
Bank name                                     : STANDARD CHARTERED BANK
Address of bank                            : G-08, Atria Mail, Gurusaday
                                                           Road, Kolkata-700 019
9 digit MICR number                    : 700036020
For Foreign donors:
Name of the organization           : SABUJ SANGHA
FC Registration number         : 147110293
FC Bank Account number            : 32111012930
IFSC CODE                                      : SCBL0036087
Swift Code                                      : SCBLINBBXXX
Name in the NFC bank account  : SABUJ SANGHA 
(NANDAKUMARPUR)
Bank name                                     : STANDARD CHARTERED BANK
Address of bank                            : G-08, Atria Mail, Gurusaday
                                                           Road, Kolkata-700 019
9 digit MICR number                    : 700036020